Yash Kumar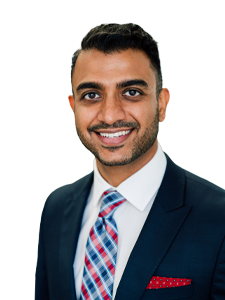 Executive Vice President, Investment Services
Sales Representative
Specialty
Investment Sales, Retail Development, Retail Leasing
Yash is a member of Lennard Investment Services, where he specializes in the acquisition and disposition of mid-market investment properties across Ontario.
With a background in Finance and work experience at some of Canada's largest financial institutions, Yash has been able to build excellent business relationships that have translated to a successful career in selling investment real estate. Prior to joining Lennard Commercial, Yash was a senior member of the Investment Team at Colliers International, a publicly traded national brokerage.
ACCOMPLISHMENTS
Since entering the commercial real estate industry over 13 years ago, Yash has been directly involved in excess of $1.1 Billion in investment transactions across Ontario. Yash has developed a strong understanding of the investment market and has built long standing relationships with the top public, private and foreign investors across Canada. The constant deal flow and interaction with property owners allow Yash to leverage his market knowledge in providing his clients with maximized returns on their investment.
It is the attention to detail and the ability to bridge the gap between Sellers and Buyers that has earned Yash the reputation of a top investment consultant within the industry.
AREA OF EXPERTISE
Mid-Market Investment Specialist
13+ years of investment brokerage and advisory experience
In excess of $1.1 Billion in commercial real estate transactions
Extensive experience and track record across GTA & Secondary/Tertiary Markets
Financial analysis and property underwriting
EDUCATION
BComm – Finance, Odette School of Business, University of Windsor
RECENT TRANSACTION HIGHLIGHTS
Blue Mountain Centre, Collingwood, Ontario - $15,200,000 - Fully leased 66,696 SF shopping centre, anchored by Cineplex Galaxy Theatres
Sun Valley Square, Vaughan, Ontario - $14,350,000 - Newly built 29,500 SF neighborhood plaza in Vaughan
TSC Retail Portfolio, Ontario - $10,200,000 - 71,000 SF three property retail portfolio: Brantford, Tillsonburg, Owen Sound
McLaughlin Corners Plaza, Brampton, Ontario - $7,250,000 - Fully leased, high profile 17,000 SF plaza in Brampton
Shoppers Drug Mart, Kingston, Ontario - $7,760,000 - New format single tenant Shoppers Drug Mart
1945 Dundas Street East, Mississauga, Ontario - $8,350,000 - Off market 43,382 SF retail/commercial plaza
417 South Service Road, Grimsby, ON - $3,800,000 - Two single tenant PADs fully leased to A&W and Starbucks
222 Spadina Avenue, Toronto, ON - $7,000,000 - Exclusive listing of 8 retail/commercial condo units fully leased to HSBC
75 King Street West, Oshawa, ON - $6,600,000 - Single tenant fully leased Scotiabank main branch
Associations
TRREB – Toronto Regional Real Estate Board
OREA – Ontario Real Estate Association
CREA – Canadian Real Estate Association
RECO – Real Estate Council of Ontario
NAIOP – National Association of Industrial and Office Properties
Property Listings