There is no short-term gain at Lennard, long-lasting relationships are what keep our business growing.
The Lennard Experience
We always put people first. Our work-life balance philosophy empowers us and helps us achieve mutually beneficial and remarkable results. There is no short-term gain at Lennard, long-lasting relationships are what keep our business growing. Our entrepreneurial spirit keeps us grounded and always in tune with the community we are part of. We work with like-minded honest people only, those who gravitate towards creativity, freedom, equality, and opportunity. Our extensive experience and broad expertise, topped by our key connections and strategic partners, makes us the team of choice for organizations large and small.
Our History
Lennard was founded in 1980 by Gordon H. Lennard in Calgary, Alberta. After a remarkable career as a banker with CIBC, Gordon ventured into commercial real estate, establishing Lennard Corporation. Soon after its inception, the Toronto office was opened on June 29, 1983. Jim Russell joined the company in Calgary in 1984 and moved to Toronto in 1986 to build up Lennard's Toronto team. Jim was joined shortly thereafter by Andy Baker and Dan Hunt, and on April 20, 1999 Jim, Andy and Dan purchased the company from Gordon and Beth Lennard and created what we know today as Lennard Commercial Realty.
The three entrepreneurs dreamed of building a multi-disciplinary Canadian commercial real estate brokerage like no other. A brokerage:
with only high-performing, successful and well-respected professionals

where agents "take home" more than at any other brokerage

with the best tools and support but without any corporate red tape

inspired by a culture promoting freedom, collaboration and work-life balance
Today, over 40 years later and with more than 170 employees in six offices across Ontario, Lennard's entrepreneurial spirit still thrives and we continue to grow.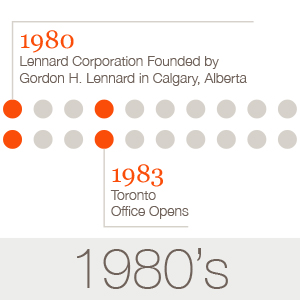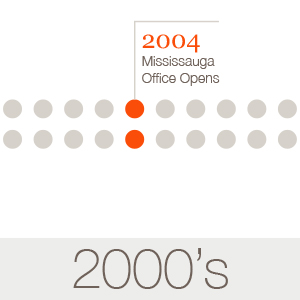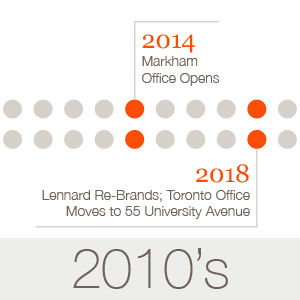 Our Vision
Transform the commercial real estate industry by providing a collaborative, fun and free environment that benefits our clients, our employees and our families.