2020-07-02
Image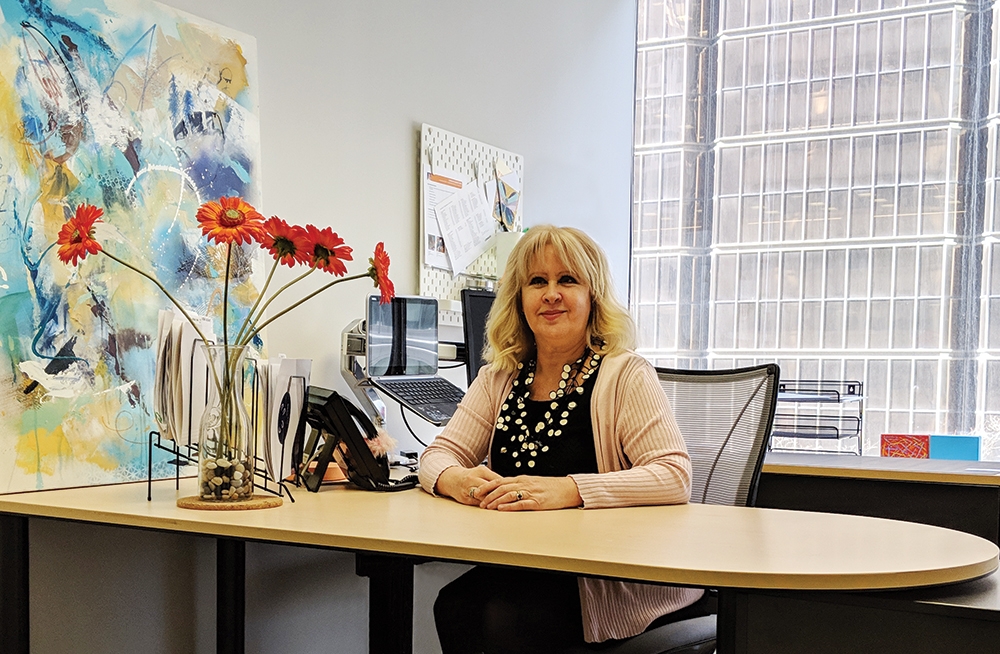 Carolyn Laidley Arn is a Sales Representative and Senior Vice President here at Lennard and has been in various sectors of commercial real estate for over 30 years.
As we all isolated at home in March, recognizing the shortage and need for personal protective equipment, Carolyn was deeply motivated to assist her community during her time in isolation, particularly when there was a fear of PPE shortages. The efforts consumed her time often meaning she worked late nights to get the masks out to the community.
She began designing and producing masks for those who needed them the most- frontline, healthcare and essential service workers, and vulnerable groups such as the elderly. She donated over 170 masks during this time, to individuals and organizations.
Carolyn was also working remotely as a Sales Representative.  As an emerging artist, with a background in interior design and construction, Carolyn wished to contribute to her community through this framework.
At one point Carolyn decided that she'd stop making masks to focus on her business and other artists endeavours.  However, it was not long before she started receiving feedback with her friends, fellow artists and online followers alike claiming that the masks are considered as a form of art and this encouragement pushed her to continue with the project and "Backyard Studios" was launched.
Conscious of the current sewing army that had arisen, with thousands globally contributing to the mass production of face masks and scrub caps,  it was imperative to Carolyn that she retains her values as an artist and only used good quality materials to facilitate her requests. In fact, this was one of her biggest difficulties and she built a network of off grid suppliers to keep things moving:
"Good quality materials are really hard to come by, as there were at the time no sewing or fabric stores currently open.  I rely on porch delivery for fabrics, notions, ties and elastic."
Carolyn uses an assortment of quality fabric designs, ranging in various colours and patterns, from light and whimsical to bolder and more expressive hues. The non-medical and washable pleated masks are constructed of three layers of fabric, filter pockets and metal nose bridges, and can be elasticated or tied suited to the individual.
Going forward, Carolyn plans to continue with her venture, focusing on both the community needs through "Backyard Studio", as well as higher end and bespoke masks, customizable to the individual and made from quality materials such as linen. The company will be called "back2baystreet", and her primary targeted consumers will be businesspeople looking for a professional mask.
We at Lennard are so proud to have such a caring and considerate individual as one our colleagues.