Jim Russell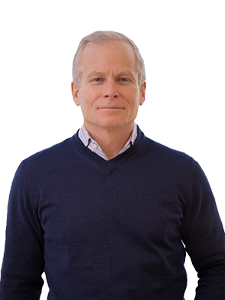 Founding Partner, Strategic Planning for Growth Companies
Broker
Specialty
Investment Sales, Office Leasing
Office Location
Toronto - Downtown
Lennard Commercial was founded in 1980 by Gordon Lennard. Jim joined the company in Calgary in 1984 and moved to Toronto in 1986 to build Lennard's Toronto team. Jim is a founding partner of Lennard Commercial Realty, who, along with his two partners, initiated the purchase of the company from Gordon and Beth Lennard in 1999.
Jim has been an active member of the commercial real estate industry for over 30 years, and has negotiated leases with every major landlord in Toronto. He specializes in office leasing in the GTA, but also represents clients across Canada and the U.S.
As a client relationship specialist, Jim has created Lennard's proprietary process, necessary to maximize their real estate potential.
Using his wide knowledge of the market, Jim authors the widely respected Toronto real estate market analysis, The "Q"™ Office Market Commentary, a quarterly report that details the office and investment markets across the GTA.
He is an active member of NAIOP and has organized real estate Idea Exchanges in North America, Europe and the Middle East.
Jim is a member of the Toronto Chapter Lambda Alpha International (LAI) the Honorary Society for the advancement of land economics. LAI members are invited based on making significant contributions to the real estate community in Toronto.
Accomplishments
Completed sales designation in 1984
Completed broker designation in 1995
Winner of the prestigious NAIOP Toronto GTA Office Lease Deal of the Year Award
Recipient of the Oxford ACE Award
Community Involvement: as member of the capital committee, Jim was instrumental in securing two buildings and raising over $260,000 towards the new Adult Centre for Geneva Centre for Autism's midtown campus autism.net
Jim recently negotiated a new long term lease for New Circles Community Services relocation and expansion in the Bermondsey area newcircles.ca
Education
Bachelor of Commerce Degree, University of Calgary
Bachelor of Fine Arts Degree, OCAD
YEO International past member
Strategic Coach Masters Program
Specializations
Office Leasing
Investment Sales
Development
Memberships & Affiliations
NAIOP
Lambda Alpha International (LAI) Toronto Chapter
Northern Karate Masters Program
Property Listings