2021-05-27
Image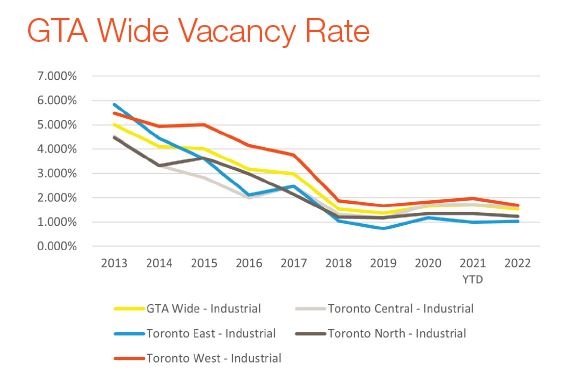 The industrial market in the Greater Toronto Area (GTA) continues to thrive in the midst of the new Covid19 world. Demand remains strong and month over month rental rates continue to climb as demand remains strong across all industrial categories.
The results of this overheated market are seen in ever increasing rental rates. For the typical industrial occupier of space there has been significant growth in rent expense. To date, the industrial market has absorbed these increases in stride, however at some point some more vulnerable industries will find it challenging to continue.
The GTA marketplace shows no signs of cooling off as interest rates remain historically low. Coupling this with numerous Federal and Provincial programs results in a market heavily slanted toward the Landlord. Difficulty in procuring space for Tenants has become, and will continue to be, a challenge. All market indicators continue to show no signs of slow down. The wild card being the lingering effects of the current pandemic – which to date, the industrial market has been immune. Expect much of the same market conditions well into the latter stages of 2021.
Email: qmarket@lennard.com to join our mailing list and recieve the report in full, along with the latest commercial real estate news in the GTA.