2023-06-05
Image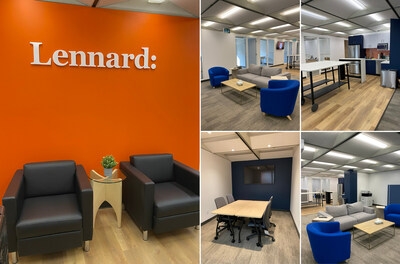 Lennard Commercial, a leading provider of commercial real estate solutions, is excited to announce the grand opening of its sixth office located at 1 Yorkdale Road in North York. This is Lennard's third new office opening in the last 14 months. The North York office aims to meet the growing demands of the midtown commercial real estate market and provide exceptional services to clients in the area and in the GTA at large. The North York office will have a strong focus on industrial leasing and sales but will offer services in all commercial markets.
Strategically positioned in Oxford's office building at Yorkdale Mall, the North York office offers convenient access to major transportation routes, public transit, and excellent amenities. Within a 10km radius of the office there is over 90 million square feet of office inventory and 94 million square feet of industrial space, making it an ideal hub for corporate clients and investors.
Lennard's North York office is comprised of a team of seasoned professionals with extensive expertise in commercial real estate. Jonathan Gorenstein and Michael Law lead this talented group of agents as our newest partners, and our experienced marketing & research team are well-equipped to provide comprehensive support to this growing office.
"We are thrilled to open our sixth office, fourth in the GTA," says Dan Hunt, one of the Founding Partners at Lennard Commercial. "This expansion represents an important milestone in our continued growth and allows us to better serve the thriving commercial real estate market in this area. We are dedicated to providing exceptional services and building long-lasting relationships with our clients, helping them achieve their business objectives."
About Lennard:
Lennard Commercial Realty was founded in 1980 in Calgary, Alberta, and in 1983 opened its first Toronto location. 
Over 40 years later and with more than 170 employees in offices across Ontario, Lennard's entrepreneurial spirit still thrives. Lennard has continued to promote a culture of collaboration, freedom and creativity which has contributed to significant agent growth and a harmonious work-life balance.
Lennard is a Canadian independent full-service commercial real estate brokerage offering a complete range of services to tenants, landlords, owners, and investors in the office, retail, industrial, land, and multi-family sectors.
Lennard has been nominated for Canada's 10 Most Admired Corporate Cultures Program for several consecutive years and has received several industry acknowledgements including several NAIOP REX (Real Estate Excellence) awards.
---
For more information about Lennard's North York office or to schedule a consultation, please contact Jonathan Gorenstein at jonathan@lennard.com or Michael Law at mlaw@lennard.com.; For further information about Lennard: Daniel Hunt, Founding Partner, 416-649-5955, dhunt@lennard.com; Lennard Commercial Realty, Brokerage, 55 University Avenue, Suite 200, Toronto, ON, M5J 2H7